Many tenants actually pay their rent, take care of the property, and make land lording and investing profitable. However, according to Dave Van Horn, there are some renters that make it unpleasant and unprofitable.  In this article he shares 9 real life experiences and helps point out red flags to look for while screening prospective tenants.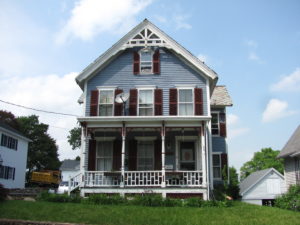 So, here's a list of some of the worst tenant situations he has encountered and not necessarily in the order of severity:
A tenant with three kids defecated all over the house after living without water for three months in the middle of Summer before the Board of Health shut them down. By the way, the Board of Health is a quick way to evict.
A tenant shot a cop, and then a SWAT team destroyed the unit in pursuit of the suspect with everything from teargas canisters to battering rams.
There was a DEA drug bust. They ripped out every drop ceiling tile in the unit.
I witnessed a tenant barbequing in an enclosed hallway of a multi-unit. (It wasn't even raining out!)
One unit had fleas, bedbugs, and termites so bad that the Township condemned the building.
A tenant filed bankruptcy and lived in the unit for a year rent-free. (It's harder to do that today based on the new bankruptcy law.)
A tenant burned the basement steps and floorboards as firewood to heat the house with the fireplace.
A tenant burned the house down cooking fried chicken for breakfast and falling asleep drunk.
I even had a tenant, whose snake ate a neighbor's small dog.
Many of these situations could have been prevented through better screening or recognizing any red flags.
Tenant Red Flags:
Are the prospective tenants on time for the appointment? If they can't even be on time for the appointment, it's likely that their rent won't be on time either.
What type of first impression did they make?
What was their personal appearance and what did their car look like? How they take care of their personal belongings is probably how they'll take care of the unit.
Are there gaps in rental history? This could signify that were incarcerated or in a facility of some sort for a period of time. Ask questions.
Did you see where they live now? That's what your unit will look like.
How many occupants will there be? This helps you predict the level of wear and tear to the unit.
Any pets (or other dangerous animals)? Townships may have ordinances that only allow certain pets.
Any long-term guests or adult children? What's your policy? For example, are the people on the lease the only ones allowed to live there? Or, will the rent increase if an adult child moves home?
Will they take the unit sight unseen? If they don't seem to care about where they're living, how well do you think they'll take care of it?
Are they flashing cash? This could signify that that the person is selling a drug or product illegally, has received some type of settlement (who you may have to evict later, if they don't have a steady income), or maybe the previous landlord paid them to leave and they're using that to money to get the new place.
Do they want to pay the security deposit in installments? If they're having trouble paying the security deposit, they may have trouble paying the rent. Of course, this isn't always the case.
Did they get upset you're considering others? If they're too aggressive, or get upset easily, they may get in your face or be very hard to please during their leasing period.
Do they whine and complain about their current landlord? They could've had an awful landlord, or they may whine and complain about everything.
These are just some of the many red flags to be on the lookout for, although not all of them will lead indefinitely to troublesome tenant situations.