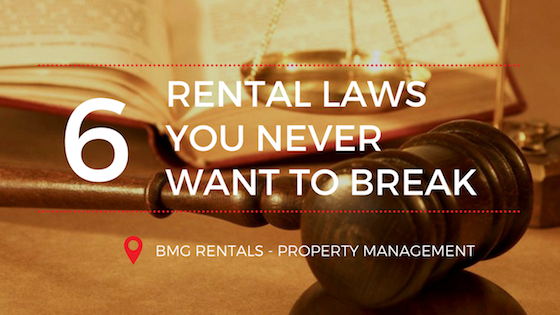 As a landlord, you have a lot of legal liability tied up in your rental property, and it's important that you are aware of the local, state, and federal laws that impact how you manage your home and your tenants. At HomeRiver Group, we work with properties in Utah and Idaho, and these are the six laws that we see landlords violate most frequently. Check with the local laws in your state and city so you can be sure you stay in compliance.
Fair Housing
The federal fair housing law prohibits you from discriminating against current and potential tenants based on race, color, national origin, sex, disability, religion, or familial status. It's important to be consistent with all your processes, because sometimes landlords can violate these laws without realizing it. Find out if your state and local fair housing laws contain other requirements.
Americans with Disabilities Act
The Americans with Disabilities Act (ADA) requires you as a landlord to accommodate the needs of tenants who have physical or intellectual disabilities. For example, you cannot treat a service animal the same way you'd treat a pet.
Security Deposit Laws
One of the most common areas of dispute between landlords and tenants is the security deposit. It's critical that you understand the timing requirements in your state, because if you don't return your tenant's security deposit on time, you can face serious penalties. You also need to understand what you're permitted to deduct from the tenant's deposit, and what you'll need to pay for yourself.
Habitability Laws
Make repairs promptly, especially those that affect habitability. Winters get cold in Utah and Idaho, so if the heat goes out in a property in the middle of January, a landlord needs to take care of it immediately. In every state, you'll be legally required to provide a safe and habitable home, so be proactive.
Local Code Compliance
Each city and municipality is different when it comes to landlord and tenant requirements. Make sure you know about any building codes, inspections, or licenses that are necessary to rent out a property legally.
Right to Quiet Enjoyment
You cannot show up at your rental property unannounced while it's occupied. The tenant has a right to privacy and to quiet enjoyment, and you need to respect that even though you legally own the home. Provide the required notice period, in writing, before you show up at the property.
The best way to ensure you don't run into legal problems is to work with a professional property manager. We stay on top of all the national, state, and local laws to protect property owners and their investments. If you'd like to hear more, please contact us at HomeRiver Group.